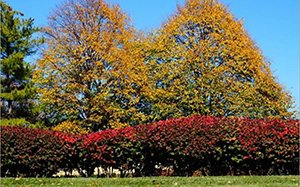 Munie delivers year-round, worry-free lawn maintenance services designed to keep your turf green, lush, and beautiful. In our 36 years of being an active player in the grounds and lawn maintenance service industry, we have accumulated a lot of happy customers who are completely satisfied with the service we have provided.
By hiring us for the design, construction, and maintenance of your turf or grounds, you can sit back, relax, and achieve peace of mind knowing that your lawn maintenance services will be carried out by professionals.
To learn more about our extensive line of turf maintenance services, please call us at 618-624-5296.
Our Customers Say It Best
We give our clients the personalized service they are looking for and as a result, they are very much willing to attest to the quality of the turf care and lawn maintenance services they have received from us. Many of our customers have been kind enough to share their thoughts on their experience with our company. Here is what they have been saying about our lawn maintenance service:
---
"My husband, Ray, and I have enjoyed outstanding service from Munie Greencare Professionals for over 15 years with the installation of our sprinkler system in 1996, as well as yard care service prior to that. We have not found any other company to equal Munie's performance! Our yard has been admired by our neighbors and friends, as well as people walking and driving past our home. They have actually stopped to ask us what yard service we use! Of course, our very quick reply, with more pleasure than we can say, is always 'Munie!' Without a doubt, we will not hesitate to highly recommend Munie to anyone we come into contact with."
Ray and Pattie Massie
O'Fallon, IL
---
"Having worked with Munie Greencare on several major projects, our firm has been impressed with their expertise and quality of work. Knowledgeable feedback from the field made our project administration both smooth and rapid, and keeps us secure in the knowledge that our design was being capably installed. Having designed several sophisticated subsurface drainage systems in combination with new turfgrass playing fields for Louisiana State University's athletic program, we had initial concerns about possible bidder quality for such high-profile facilities. Munie's manpower and equipment resources allowed their installation to run quickly, seamlessly, and within budget. I would not hesitate to recommend their services."
Roy Dufreche, ASLA, CLARB
Roy T. Dufreche & Associates, LLC Hammond, LA
---
"I have worked with many contractors in my 24 years of practice as a Landscape Architect, and I can absolutely attest that Munie Greencare Professionals is among the best. I have worked with Munie many times, both on bid jobs and as part of turnkey projects, and I can always count on their professional staff to be fair, efficient and to provide the highest-quality product. The effort during construction is equaled by their service after the fact, and their professionalism reigns throughout. If I had one last sports field to build in my career and could choose the contractor, Munie would get the call!"
Joseph W. Furr, ALSA
Joseph Furr Design Studio
Baton Rouge, LA
---
"We couldn't be more pleased with the work Munie Greencare Professionals did at our fields. Munie came in and looked over our facility, then formulated a plan in a timely, professional manner. Our two fields were built at a 1% grade, much like a parking lot. We had a significant drainage problem to say the least. Soon after completion, we had 5 inches of rain in a four-day period. The rain stopped around 10:00 a.m., and the fields could have been played on at 7:00 p.m. This fall was our wettest season on record, and under the old conditions we probably would not have been able to use the fields for weeks. Again, what Munie accomplished at our facility was remarkable, and to top it off a follow-up visit six months later. I can say without reservation that Munie was fantastic to work with."
Steve Clements
Tyler Junior College
Tyler, TX
---
"Munie,
Thanks for a "job well done" and then some. You are the tops- the best finished job that I have seen in my 54 years in the game. You are a true pro."
George P Toma
Sports Field Consultant
---
Lawn Maintenance Service at Its Finest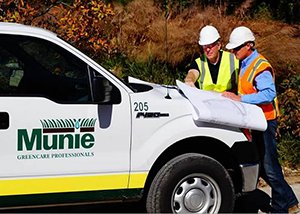 Green turf and lush lawns are very important within a landscape, especially for certain sports fields and courses. They make people appreciate the outdoors and they allow people to enjoy more from various sports and leisure activities. Turf management is essential in order to maintain the functionality and aesthetics of the outside surroundings of your property. Some people may think this is just a summer job, when in fact proper grounds and turf maintenance is something that needs to be done all throughout the year. This is where we come in. We help property managers and homeowners when it comes to excellent turf care and lawn maintenance service.
It has always been our goal to provide high quality lawn maintenance service and to build long-lasting relationships with our customers. Aside from our team of NALP-certified turf professionals, we also have a dedicated customer service team to guarantee that every client we cater to is happy with our work.
Our aim is to ensure that the customer experience is exceptional with every interaction with every member of our team—from the time they call us to make an inquiry to the time we close the job order. We follow up with each and every customer to ensure complete and continuous satisfaction with their lawn maintenance service.
Share Your Story
Behind every turf and every patch of green is a story waiting to be told. At Munie, we welcome all kinds of feedback from our customers. Rather than resting on our laurels, we believe there is always room for improvement. Let us know what you think we are doing right and what we need to improve.
If you would like to provide a feedback or a testimonial on our turf maintenance and lawn maintenance services, give us a call at 618-624-5296 or contact us online!