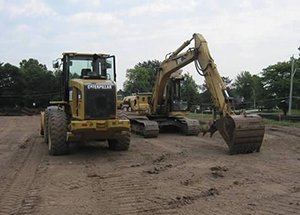 If you are looking for a reliable lawn installation company to partner with, trust that Munie Lawn Specialists can turn your vision into a reality. Based out of Caseyville, Illinois Munie Lawn Specialist understands Midwest lawns. There have been tremendous advances in turf varieties over the years. We follow the research and we grow the best varieties for our area.
To learn more about our lawn installation and turf maintenance services, please call 618-624-5296 for a free consultation with one of our experts.
Our Lawn Installation Services
Dedicated to the art and science of turfgrass excellence, Munie Lawn Specialists is a one-stop provider of lawn installation services ranging from the removal of an existing lawn and ground preparation to the laying down of new grass or seed.
Established in 1980, Munie's keen eye for detail will ensure that every detail will be taken into account, such as your climate and the strongest seed varieties in your area to ensure that the resulting lawn will be the best and the greenest in your neighborhood, one that will last you for many years to come. We also grow varieties on our local sod farms to ensure we provide the best sod for your lawn.
Having the best lawn possible begins with establishment. It is our commitment to finish each lawn installation project using the highest standard possible so that you will be 100% completely satisfied with the service provided. Our team is composed of licensed, insured, and knowledgeable professionals, many of whom hold degrees in turfgrass management, and you can expect a lot of depth and expertise within our personnel. We are so confident that we guarantee establishment. Our services include:
Sod install
Seeding
Grading
Along with our degreed and knowledgeable team, we make use of state of the art equipment during the entire lawn installation process in order to achieve healthy, sustainable turf from the ground up. From our use of the latest equipment and technology to utilizing seeds varieties that are known to thrive in your area, we ensure that our finished product is a lawn that you can enjoy for many years to come.
Hire Us for Your Lawn Installation Needs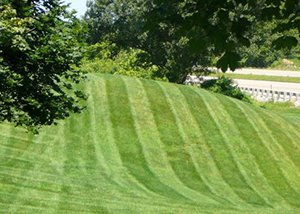 Establishing a hardy and lush lawn is much more than just throwing some seed around. There is a lot that goes into planning and establishing a healthy lawn. This is why you need to partner with a company that has an established reputation within the turf maintenance industry when it comes to your new lawn installation project.
Rest assured that Munie has the depth, resources, and equipment to handle even the largest demands ranging from newly constructed homes and subdivisions to sports complexes and large scale commercial sites located throughout Illinois, Missouri, Kansas, Florida, Louisiana, North Carolina, Alabama, and Oklahoma. To find out more about how we can create a beautiful lawn installation for your home or business with our turf maintenance services, call us at 618-624-5296.