A healthy, well maintained lawn, not only creates a great first impression, it also provides substantial benefits to our environment. Commercial lawn care should be as important as taking care of what is inside your building. After all, there are many benefits a business will see by utilizing lawn care companies to take care of their outside living space including providing a cooler environment compared to asphalt or bare dirt, and can reduce the noise by up to 30%.
If your lawn and landscape are in great shape, you have a quality outdoor space that both your employees and customers will get to enjoy. Commercial lawn care companies can help create a lawn that is well-maintained, helps the environment, and gives the impression of clean professionalism that many customers like to see. Let our professionals ensure your outdoor space achieves its full potential.
To learn more about our commercial lawn care company and our turf maintenance services or to schedule your free consultation, please call us at 618-624-5296.
Our Commercial Lawn Care Services
Our year-round and seasonal commercial lawn maintenance service will ensure that you have a top-notch lawn and landscape all throughout the year. Here are the commercial lawn care services we currently offer:
Fertilization
Overseeding
Weed Control
Lawn and Shrub Management
Aeration
Tree and Shrub Care
Irrigation
Why Choose Munie Lawn Specialists Over Other Lawn Care Companies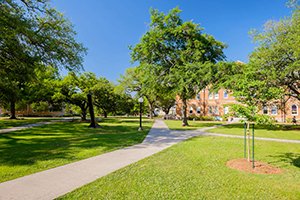 The current state of your landscape should reflect the business image that you wish to portray to your industry and target audience. If you want to achieve a beautiful, well-manicured, and professional-looking lawn for your commercial property in St. Louis, then hire a lawn care company you can trust to get the job done. At Munie Lawn Specialists, we provide a wide variety of commercial lawn care and turf management services that will serve every business need.
Established in 1980, we have been providing high quality commercial lawn care service for businesses and large scale commercial sites within the Greater St. Louis area. What makes Munie Lawn Specialists different from other lawn care companies are our certified staff who have degrees in turfgrass management, our specialized equipment, our great attention to the smallest of details, and our outstanding customer service.
We provide timely, professional, and courteous service at all times to all of our clients, and we will not stop until you are completely satisfied with the results of our work. All of these things are why we are confident we can provide more value than any other lawn care companies in the greater St. Louis area.
Choosing the Best Commercial Lawn Care Companies to Work With
In business, first impressions last and the appearance of your property is of the utmost importance. If you want your commercial property to remain looking its best, you need to only work with experienced lawn care companies. Since every commercial site is different from one another, a one-size-fits-all program will simply not suffice. Allow Munie Lawn Specialists to develop a custom-tailored lawn care program that will address your specific business needs.
To receive your free consultation on our turf maintenance services and to learn why we are a step above other commercial lawn care companies, please do not hesitate to call us at 618-624-5296.