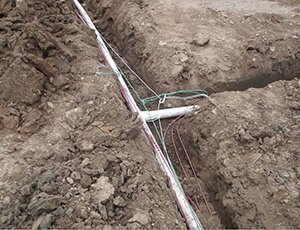 At Munie Lawn Specialists, we are a full-service company dedicated to the art and science of turfgrass excellence and we provide design and installation services for irrigation systems all throughout the greater St. Louis area as well as in Illinois, Missouri, Kansas, Florida, Louisiana, North Carolina, Alabama, and Oklahoma. Our team of turf specialists can develop and install all types of irrigation systems for sports fields, golf courses, residential, commercial, and other large scale sites.
For more information on our turf maintenance and irrigation system design and installation services, please give us a call at 618-624-5296.
Complete Irrigation System Design, Installation, & Maintenance and Water Management Services
All irrigation systems are not created equal, and the best irrigation systems are those that are custom designed and tailored to your lawn's specific needs. When building irrigation systems, you need to hire experienced irrigation specialists who will ensure that the best system is installed for your turf, saving you time and money in the long run.
Munie Lawn Services is proud to offer tailored irrigation solutions for commercial and residential properties that are custom designed to meet the unique needs of your grass, plants, trees, and landscaping. Munie provides design, installation, and maintenance services to ensure you receive the maximum benefits from your irrigation system.
We offer:
Design and installation of your irrigation system
Maintenance and repair of irrigation controller
Irrigation system inspection and diagnosis
Irrigation system repairs including electrical and plumbing components
Leak detection and repair
Complete system audits for efficiency
Water management – maximize healthy results while minimizing waste
Why Hire Us to Design & Install Irrigation Systems for Your Property
Here at Munie, designing, implementing, and perfecting effective irrigation systems is definitely our specialty. Rest assured that our highly trained professionals will ensure quality design and engineering during the irrigation construction. We also ensure even precipitation rates for optimal lawn and landscape growth.
We give a great deal of consideration to your needs and budget requirements when choosing the most appropriate irrigation system for your turf. Our people, equipment, and resources can handle even both large and emergency irrigation jobs.
Additionally, Munie Lawn Services is focused on environmental sustainability. We strive for this with our irrigation methods through the use of state-of-the-art irrigation system components that provide exact amounts of water needed while minimizing water waste and runoff. This ensures that only your landscaping receives the proper irrigation and not your sidewalks or driveways. Not only does a well-designed irrigation system benefit the environment but also provides economic benefits in the form of reduced water bills.
Contact Us About Your Irrigation Systems Needs
Established in 1980, Munie Lawn Specialists is the leading turf establishment and management company serving the Metro East and St. Louis area as well as Illinois, Missouri, Kansas, Florida, Louisiana, North Carolina, Alabama, and Oklahoma. Our seasoned turf management professionals have developed and installed irrigation systems all over the Midwestern and Southern states. We use only the finest irrigation equipment, and we come up with a practical, economical, and sustainable plan for the irrigation needs of your home, business, golf course, or athletic field.
Contact us now at 618-624-5296 to see how your property can benefit from our irrigation system and turf maintenance services.