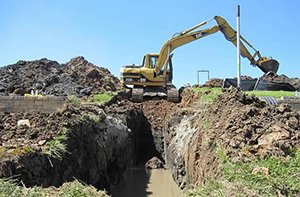 We all know the importance of keeping valuable soil and sediment out of our rivers and streams. Munie Greencare Professionals has the experience and knowledge to address your erosion needs. If you need to implement erosion control solutions on your property and you are looking for a dedicated and trustworthy company to partner with, look no further than Munie Greencare Professionals. Established in 1980, we are the experts when it comes to the installation and maintenance of erosion and storm water management systems.
Our highly trained and degreed team is staffed, experienced, and equipped with cutting-edge tools it takes to design and implement effective erosion control systems for any unique application. Munie Greencare Professionals has a strong commitment to preserving and improving our environment.
Contact our turf maintenance company online or by calling 618-624-5296 to speak with one of our erosion control specialists about your upcoming project.
Our Turf Erosion Control Services
Munie Greencare Professionals' decades of experience has given us a keen insight into what it takes to design, build, and install a custom-tailored erosion control plan that will address your unique needs. From rain gardens, filter strops, sediment control, and storm water structures, we have you covered. Not only are we committed to completing your projects on time and within budget, but we continuously strive to deliver a level of service leaps and bounds above our competition in the grounds maintenance industry.
We utilize effective erosion control techniques such as:
Stream Bank Stabilization – Using fill comprised of multiple types of rocks to protect embankments, bridge abutments, and streambeds from erosion caused by runoff. Riprap encaged in galvanized, steel-wire mesh cages or cylinders used to stabilize slopes and streambanks against erosion.
Buffer Strips – Using narrow areas of vegetation for erosion control, as the roots of the vegetation act as anchors.
Silt Fences – Special fences used to keep in sediment that blows away.
Erosion Control Blankets – Special blankets laid on slopes to slow water runoff and soil erosion.
Revegetation – Establishing vegetation so that their roots act as anchors and filters, preventing soil erosion.
Rain Gardens
Detention and Sediment basins
We serve sports fields, golf, municipal, and commercial customers within the Metro East and the Greater St. Louis area as well as the Midwestern and Southern states and can handle any size project – large or small.
Hire Our Erosion Control Services
Erosion control is considered an integral part of most landscaping projects. With our licensed turf professionals' help, we can plan, build, and maintain a highly effective erosion control program for your property. Our turf experts are innovative and are always equipped with the latest technology in erosion control to ensure the success of your project.
Munie Lawn Specialists offers cost-effective erosion control solutions for golf courses, sports field, and large scale commercial and industrial sites. Please give us a call at 618-624-5296 to speak to one of our erosion control experts, or to learn more about the turf maintenance services that we offer.