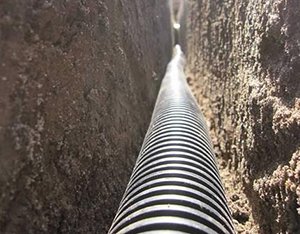 Munie Greencare Professionals has the knowledge, experience, and highly specialized state-of-the-art equipment to develop and install all types of drainage systems for your sports field, golf course, residential, commercial, or other large scale site.
We are proud to offer our drainage system services throughout greater St. Louis as well as the Midwestern and Southern states. To learn more about our wide range of drainage system and turf maintenance services, please call us today at 618-624-5296.
Our Drainage System Services
When you utilize Munie Greencare Professionals, we will determine the best drainage solution based on your lawn or field's particular problems and needs. We use state-of-the-art laser controlled trenchers to ensure precision system installation. Some drainage systems can be installed quickly with little interruption in play while others are often included as part of a full renovation project. We will recommend the best option based on your needs. With our drainage systems you can have a solid foundation for performance sports fields and golf course greens.
Some of the drainage system solutions we offer include:
Slit Drainage Systems – A solution where we use a network of trenches, using small diameter perforated pipes and gravel or sand to drain away excess water from the surface and sub-surface.
Catch Basin / Collector Drain Systems – A solution where a catch basin is used to collect water and then redirect it away through a buried system of connected drain pipes.
Laser Regrading – A drainage solution where we implement a slight grade to a field in order to let water run off properly.
Pattern Field Tiling – a prevention method from soil saturation
French Drains
Under Drain Systems – For synthetic and sand based performance fields
Our Process for Drainage System Installation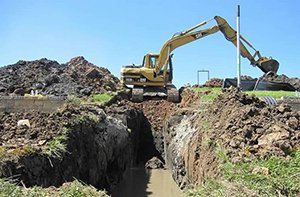 A drainage system is a complex matter that should be trusted with seasoned turf specialists like those at Munie. Rest assured that Munie, with our extensive experience and our state of the art equipment will be able to find the drainage system solution that best fits your needs and budget.
Installing a drainage system requires an in-depth background of soil and topography, as well as a deep understanding of surface grading and natural/synthetic grass. Rest assured that the personnel at Munie Greencare Professionals are dedicated to the art and science of turfgrass excellence, and we have specialized knowledge to develop the solution that is best for your needs.
No soil is created equal, which is why a one-size-fits-all drainage system won't be an effective solution. When you hire us, we will conduct a site evaluation and soil testing on your property, and then we'll come up with a custom drainage solution.
With our decades of experience and specialized equipment, you can count on the professionals at Munie to complete your project on time and within budget. Our team is made up of professionals who are licensed, insured, and carry degrees in turfgrass management, horticulture, and soil sciences. We are more than familiar with the unique challenges that come with designing an effective drainage system in St. Louis, and we are confident that we will be able to meet the needs of your project no matter how large or small.
Learn More About Our Drainage System Installation Services
Are you looking for a trustworthy company to handle your home or facility's drainage system needs? Munie Lawn Specialists has got you covered. Our 36 years in the turfgrass industry has resulted in an impeccable reputation and expertise you will not be able to find in other turf companies.
Contact our turf maintenance company today by calling 618-624-5296 to learn more about our drainage system installation services.