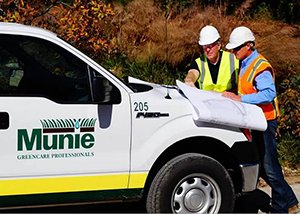 Munie is a leading provider of turfgrass management and land maintenance solutions. We have a comprehensive range of grounds management and turf care services that cater to every need—whether you are a commercial property owner, a football field maintenance manager, or a home owner.
To learn more about our grounds management and turfgrass maintenance services we offer, you can give us a call at 618-624-5296 or contact us online.
What Munie Has to Offer
Founded in 1980 by Joe Munie, The Munie Company had its humble beginnings in Belleville, Illinois and has grown into a leading provider of commercial grounds maintenance, turf care, and lawn care solutions that spreads across 9 states throughout the country, including Illinois, Missouri, Kansas, Florida, Louisiana, North Carolina, Alabama, Maryland, and Oklahoma.

Our company focuses on two disciplines that cater to two distinct segments of the green industry:
Munie Greencare Professionals – MGP is the land maintenance arm of Munie with its emphasis on turf services that cater to large complex sites such as commercial, industrial, and recreational facilities as well as military housing communities. MGP is a single-source provider of grounds maintenance services with its full-service capabilities.
Munie Lawn Specialists – MLS is dedicated to the art and science of turfgrass excellence, serving the sports, residential, and commercial markets with professional turf care and lawn care services. MLS is an authority in the management and establishment of turfgrass.
Why Choose Our Turf Care Services
Many people choose Munie when it comes to the design, construction, and maintenance of their turf, and with good reason. Here is why they chose us, and why you should, too:
Full-service provider: Munie is a single source provider for your grounds maintenance and turf care service needs. We offer a diverse range of turf care services, with capabilities beyond any of our competitors.
Specialty equipment: We use highly specialized equipment of the highest quality and employ the latest technologies in grounds management, turf care, and turfgrass maintenance that are far beyond our customers' capabilities.
Exceptional customer service: We strive to develop a long-term relationship with our clients and create a customer experience that is unlike any other. Our role is to become a strategic partner for our customers with goals that align.
Our Core Values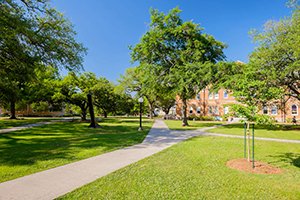 Our company encourages a culture of safety, where the safety of our employees, customers, and public is given a priority. We do not encourage policies and procedures that value production over responsibility. All business processes in place play a critical role in ensuring the safety of everyone involved.
We are also committed to building a better environment for the present and the future generations by employing sustainable and environmentally friendly practices to whatever patch of green we work on.
Learn More about Our Turf Care Services
If you are in need of land maintenance, sports field management, and lawn care services look no further than Munie. We cover every aspect of turf care—from design and construction to maintenance and renovation. To find out how our Company can help improve your property, call us now at 618-624-5296!